Pelican Landing Real Estate Search
WARNING! If you want just another synopsis of "conveniently located just miles from" or "nestled alongside SWFL's white sandy beaches" synopsis then X out of this page right now. Real estate – like the FL air in the summertime - doesn't need to be dry.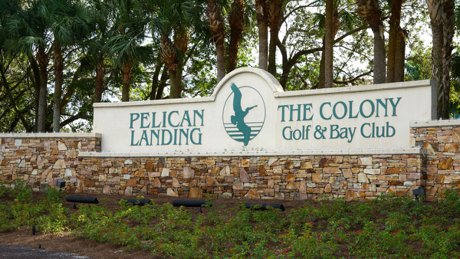 "Have to run or we will miss the shuttle! We are headed to the beach club!"

"It's so nice out! Would you rather play tennis, sign up for the sailing class, or just go kayaking tomorrow?"

These are all things we've heard first hand from Pelican Landing residents. That's right – Pelican Landing in Bonita Springs offers amenities second to none. But I just want the golf! What about golf, you ask? We have a great – no… not great… – an excellent course.

Enticed, yet? Read on.

Let's back track a bit to a general overview of Pelican Landing:

First, location: Pelican Landing is so much more than just another community West of US-41 (that's the sought after beach side, by the way). Alright – let's talk about the beach. Chances are if you are reading this, you are dreaming of escaping the cold… the horrendous northern winters.

Right?

The local saying here is, "you can't shovel sunshine." We like to add "and if you tried, you would immediately stop because who wants to break a sweat at 80 degrees. In February. When you can just take it all in beneath the shaded canopy of a sun umbrella courtesy of Pelican Landing Beach Park?

You get the point. All kidding aside, Pelican Landing really does have its very own beach park. Of course, as any true Florida property showing should go, a beach shuttle and pontoon boat ride, along with the exploration of the beach club island, is a major part of our Pelican Landing showing routine.

If you still aren't convinced that Pelican Landing is right for you, then this part of the showing just might sway your mind!

The 34 acre Beach Club is located on Big Hickory Island in the Estero Bay, and is accessible to residents and guests of Pelican Landing, as well as Hyatt Regency Coconut Point Resort & Spa guests, and Hyatt Coconut Point Plantation members. A shuttle leaves every 30 minutes during season, and every hour on the hour during off-season from the Coconut Point Marina. The Pelican Landing Beach Park is probably one of the most fun day excursions you could take. If you'd rather go at night, the shuttle also runs two sunset lines on Thursdays and Sundays.

Second, Golf Membership: "If you don't play anywhere else when you come to Southwest Florida, you must play here. It's that good!" - Golf Digest

The year was 1985, when golf architect maestro Tom Fazio sat down at the drawing board to dream up what would become Pelican's Nest Golf Club. His vision of the perfect wildlife sanctuary and world class golf blend would win Pelican's Nest Golf Club the prestigious title of America's "#3 Best Public Golf Course" by Golf Digest on the "Best New Courses" list, as well as a Certificate of Achievement as a "Certified Audubon Cooperative Sanctuary" by Audubon International.

"We want to buy in Pelican Landing. We might rent in Pelican Landing or another community in the area first to see if we like the neighborhood but we want to play golf! Is that possible?"

Of course! Newcomers are always welcome here and can enjoy the Transfer Guest Program. The limit on this membership is two years, however.

Third, Social Membership: As a social member, you can dine at the club and play limited rounds of golf during season, and from May through October you can even take advantage of unlimited golf & range opportunities, plus reciprocal dining privileges at over 25 clubs in Lee and Collier County (testing out your favorite Sunday brunch, anyone?!)

Fourth, the Canoe/Kayak Park & Sailing Center: We don't know about you, but there is nothing quite like meandering through the mangroves alongside manatees (yes – and alligators. No – they don't bite. Unless you get too close and poke them. Do not poke the alligators!). Use of the canoe and kayaks is free – just call the gatehouse to pick up your paddles and life vest. Sunset and Moonrise paddle events are a fun way to explore the backwaters of Pelican Landing – just make sure to check the tide so you aren't paddling against the current. Or choose to paddle against the current. You will get twice the workout (and could always replenish your energy with brunch at one of those 25 reciprocal clubs we mentioned earlier).

No need to worry, fellow speed racers. We know that kayaking isn't fast enough for us adrenaline junkies. Your need for speed can be calmed at the Pelican Landing Sailing Center just off Coconut Road. Sailboats are available for rent, and you can even request lessons (and you thought you'd miss New England…).

Fifth, Resident Clubs: who needs Oprah's Book Club when you Have Pelican Landing's Book Club?! That's right – the club meets monthly at the Community Center. If, instead of consuming content your passion lies in creating it, you could join the art club. You don't have to be the next Michelangelo or Picasso. The club ranges from total beginners to professionals. Or join the birding club, or the bridge, cycling, fishing, garden, photo, or singles club. Or join them all!

Now this next part is going to get weird.

We don't know why you would ever want to travel when you live in paradise, but if for some odd reason you feel the need to leave the sanctuary that is Pelican Landing and surrounding SWFL, the travel club has your back. With cruises to the Bahamas, Bermuda, Charleston, and more, you won't get bored (but really – why are you even considering leaving…?)

Sixth, Tennis and Fitness Center: I have taken many lessons with Dave, the USPTA- certified pro at Pelican Landing. He sure keeps you on your feet (emphasis on your feet – the courts are Har-Tru clay and we all know sliding into that last match point makes you feel like a super hero. The type of feeling that just isn't possible on anything other than clay). You can be your own super hero and win your match point against your friends, or you can get competitive and join the Pelican Landing league. We are certain you've read all about the dry "state of the art fitness center" in every other neighborhood, so we won't bore you. It's the same here.

We really don't know what else we could say to interest you in this community (75 degrees in February with your toes in the sand at the Beach Park didn't do it?!)

Ok fine – let us tell you why this is the best location in all of Bonita Springs.
We already went through the West of US-41 scenario. This is the beach side. In fact, Pelican Landing is approximately 10 minutes from the beach – We don't lie – in season it's pushing 15 minutes. But out of season you are looking at right around 8 minutes.

Coconut Point Mall is virtually across the street, where a shopping and dining heaven of 140+ stores and restaurants awaits. Mercato is a few minutes south of Pelican Landing, where our favorite movie theater of all time is located: Silverspot. The seats are more comfortable than our own sofas, and there's even a restaurant that allows you to bring fresh made entrees into the theater. Your TV dinner just ascended to an entirely new level. Whole Foods is located inside Mercato, too.

Why would you even consider wanting to live anywhere else? Did we mention that Pelican Landing is one of only a handful of communities in Bonita Springs that weren't just completely clear-cut? If you are looking for some mature trees and landscaping, then this is it.

"Ok, Team. Show me where the money is. What kind of homes are available?"

Well, you can find out RIGHT HERE!